Difficult periods come and go; they are part of life. Such a period can take minutes, hours, weeks, months or years and can be about a personal situation, an event, a pandemic or an uncomfortable feeling. Whatever it is, we're not doing well. That's okay, we're allowed to have these feelings. In this blog I will provide you with a tip for retaining vitality in difficult periods. 
Make a list
When going through a difficult period it can be very helpful to have a list of things that could help you when you're feeling down. A list like this can provide guidance and be comforting. It can consist of different kind of things, such as:
Activities:

a

hobby

,

positive thinking

, taking a

walk

, learning something new, taking a

mini break

, mindful

breathing

. 

Reminders

for yourself: take it easy, don't focus on negative people, think about

self love

,

treat yourself

, everything will be okay, it's okay to have an off day, stop comparing yourself,

you don't have to be perfect

.

People

: calling a friend, visiting your family, asking for help,

talk to people about how you really feel

.
Where do I start?
You can create one of these lists in your NiceDay diary, or make it on paper. Are you creative? Try to make a collage with drawings and/or stickers (a mindful exercise) and hang it on a spot where you can easily see it everyday. Here's an example of one of those collages: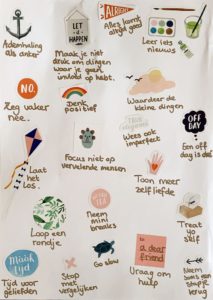 Do you need some help going through your difficult period? Click here for more information about online help via NiceDay.