Every moment in life you experience things. These experiences have an influence on you and your balance. This can be a positive influence, but also a negative one. Do you feel out of balance? A good way to visualize this, is by making a weighing scale. We will explain in this blog how this looks like, what the purpose is and how you get your scale back in balance!
Weighing scale: strengths versus burdens
On one side of the scale you have your strengths and abilities, and the other side contains your burden and vulnerabilities (see image below). Your strengths and abilities influence how you can "carry" any problems or worries. This could be mental resilience, physical health, good coping, social support and self confidence. The burdens and vulnerabilities entail your worries and problems, for example an emotional life event, a sick family member or problems at work.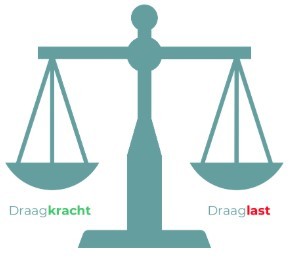 When are you out of balance?
When you have sufficient strengths and abilities, you can frequently handle some problems. But if you do not have sufficient strengths or you experience too many problems, the right side of the scale goes down. Your burdens will weigh more than your strengths and abilities and you scale goes out of balance. You will probably feel this in your stress levels, in your body, your mood or your sleep quality. 
To get your scale back in balance, you can do two things: 
you can either try to reduce your problems (the problem solving approach), 

 you can improve your strengths and abilities (the solution based  approach). 
This second option is frequently used, because not all problems can always be solved. Improving your strength and abilities is an important factor for a balanced life. 
How do I improve this side of the scale?
You can improve this in multiple ways! It is everything that gives you strength, energy, trust or resilience. You can try to improve your mental resilience. You can choose a healthier lifestyle: by sleeping enough, exercising and eating healthy. You can take better care of yourself and take enough time to relax. Or you can talk to people in your social network about the things you experience. Need some more help? A NiceDay coach can also help you improve your strengths and abilities. 
What can you do? 
Make up your own balance! What are your capacities and what are your burdens? You can write this down in your NiceDay Diary, or let your creativity run wild and make a drawing, painting or collage. Write down everything that comes to mind, how big or small it is.
Is your scale balanced? 
Balance is not something you find, it's something you create – Jana Kingsford