Have you ever thought how easy it would be if you had an overview of all your registrations, in a graph? So did we! That's why we have some good news for you; as of today you will find graphs in the NiceDay app version 1.19 or higher!
Trackers
In the app you can use trackers to register many different things. You can use the standard trackers, such as feelings, steps, thought records or the diary for example. But, you can also add custom trackers. These trackers allow you to track things like backaches, how much cigarettes you have smoked, when you suffered from nightmares or panic attacks for example.
Graphs
As of now, it is possible to view graphs of all of these trackers. The graphs provide an overview of all the registrations you have made for this specific tracker. You can view the registrations in the graph per day, week, month or year. In one glance you'll be able to see how your complaints are progressing!
How do I view a graph?
Go to "Track" in the bottom menu of the app

Select one of the trackers for which you'd like to view the graph, for example "Alcohol intake".

Tap the tracker. On the overview page you will find a graph icon on the right side of the screen; tap on it

You can now take a look at your graph!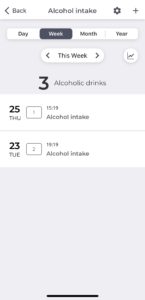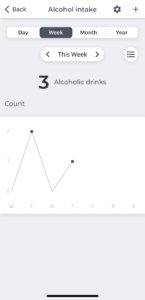 Why are graphs valuable?
Graphs give you insight into your progress! For example, you can see that you start to feel less and less sad or anxious during the therapy, or you see that you use less and less substances. In addition, you can clearly see that you not only have bad days, but also experience good days. This provides a sense of control over your progress. You can then discuss your progress with your professional, even if you feel that you are not making sufficient progress.
Questions
Do you have questions about using the NiceDay app? Please feel free to contact us at team@niceday.app, or send the NiceDay Team a message via chat.