With a sociogram, we can clearly display which people you are close to.
How does it work?
Write your own name in the middle of the circle and write the names of other people you feel are close to you in the circles around your name. The closer someone feels to you, the closer you put them to the inner circle. This includes people with whom you are 'close', but also people with whom you only have occasional contact.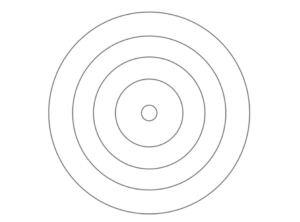 How does it feel to see your sociogram like this?
________________________________________________________
Are there things you would like to see differently?
________________________________________________________
An example of a sociogram: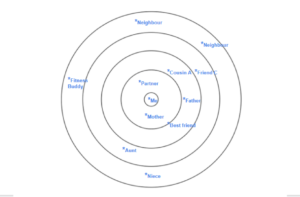 In this example, they feel closest to their mother and partner, which is why they are in the first circle, which is closest to the 'me' in the middle. In the next circle is cousin A, the best friend and the father, therefore they do not feel as close to these people as their mother and partner, but close nonetheless. The people in the following circle are a little more distant, and the outermost circle, with the neighbour and a fitness buddy, are the furthest away.