During interpersonal psychotherapy (IPT), you will discuss many of the important relationships and life events that you have experienced. Relationships and mood influence each other greatly. With the help of your practitioner, you will identify which important events occurred prior to your current depression.
You will do this by creating a lifeline. Creating a lifeline allows you to map and link events chronologically. This will help make it clear at a glance which events occurred and when.
All your life events can be found on your lifeline, from social relationships to life events. This will allow you to see whether there is an association between certain events and the onset of your depression. For some of the events, your practitioner will ask what happened, how you felt whilst they occurred and how you dealt with them.
How do you create a lifeline?
On a large sheet of paper, draw a horizontal line (see the example below). The left side of the line represents the moment you were born, and the right side of the line represents your current age. On this line, you will pinpoint all the moments in your life that were important to or emotionally charged for you.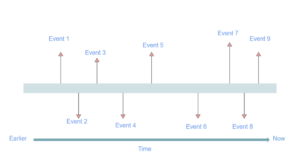 Sources: Leerboek Interpersoonlijke psychotherapie, Marc Blom, Bohn Stafleu van Loghum, 2011.